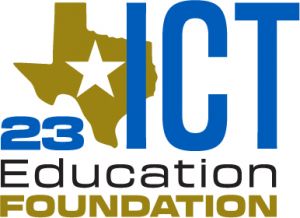 Since 2002, the Insurance Council of Texas has awarded scholarships and other educational funds to Texas university students and partner universities to help nurture the next generation of insurance professionals. In 2007, ICT created the ICT Education Foundation, a 501(c)(3) non-profit charitable organization, to administer the growing scholarship program. As of Dec. 31, 2022, the Education Foundation has awarded over $1.4 million in awards to promote careers in the insurance industry. And 100% of all donations go directly to scholarships and academic achievement awards.
For individual contribution or silent auction donation questions please reach Linda Vallejo at lvallejo@insurancecouncil.org.
Watch the video below to learn more about the Education Foundation.
Please take the time to review the 2022 ICT Education Foundation Impact Report and watch the video below to learn more about our mission, the students and professors at our partner universities and the accomplishments we were able to achieve in 2022. Last year was a record-breaking year for the ICT Education Foundation. Thanks to the generous support of individual donors and our corporate sponsors we raised over $115,000 to support students and risk management and insurance programs at our partner universities throughout Texas.
The ICT Education Foundation Team and our board of trustees are proud of the impact we are having on the lives of the future leaders of the insurance industry.

Today, the Education Foundation awards scholarships to students at nine Texas universities:
Baylor University
St. Mary's University
Texas Southern University
University of Houston
University of Houston-Downtown
University of North Texas
The University of Texas at Dallas
The University of Texas at Austin
The University of Texas at Rio Grande Valley
The University of Texas at San Antonio.

I don't know if you can really appreciate the full extent to which a scholarship can change a student's life. The money AND the special attention afforded them by the ICT may very well launch their careers. It makes a difference.
~ Dr. Nat Pope, Professor Insurance & Risk Management UNT

The mission of ICT's Education Foundation is to promote careers in the Property and Casualty insurance industry through scholarships and other financial support to university students seeking a degree or taking coursework in risk management/insurance programs.
I am pleased to support the ICT Education Foundation for over ten years. Their work, to promote careers in the insurance industry, creating a viable employment pipeline and helping students recognize the opportunities available in this industry is critical.
~ John Stuckemeyer, Counsel State Farm, ICT Chair of the Board of Directors
2023 Supporters of Education
Rick Gentry
Individual
Michael Gerik
Texas Farm Bureau Mutual Insurance Company
Paula Harmon
Insurance Council of Texas
John Henle
Union Standard
Craig Sparks
Retired - Union Standard
Terry Porter
Texas Insurance Checking Office (TICO)
Debra Lee Richardson
Individual
Linda Schmidt
 Hochheim Prairie Farm Mutual Insurance Association
Connie Johnson
Connie Johnson & Associates Inc
Richard Johnson
Insurance Council of Texas
Juan Padron
Safeguard Insurance Agency
David Sommer
St. Mary's University
John Stuckemeyer
State Farm
Nedra Francisco
Insurance Council of Texas
Donna Wright
International Risk Management Institute
Davida Redwine
Insurance Council of Texas
ICT recognized those that have generously supported the ICT Foundation over the years. As part of our appreciation, we recognized the following 5 and 10-year Legacy Partners for their donations to the foundation:
10-Year Donors
David Weber, Hochheim Prairie
Wendy Braniff, Braniff Attorneys
Linda Schmidt, Hochheim Prairie
5-Year Donors
Thomas (Tom) Fitzpatrick, Chubb
William G. Parrillo, Safeway Insurance
Ty Simmons, Union Standard
Byron Smith, Columbia Insurance Group
William Weldon, Travelers
Albert Betts
Lynn (Lynette) Brewer
Ronald (Ron) Cobb
Stuart Colburn
Jim Foltz
Camille Garcia
James Garven
Rick (Herbert) Gentry
Michael (Mike) Gerik
Tony (Antonio) Gonzalez
Mark Hanna
Paula Harmon
James (Jim) Harms
William (Bill) Huff
Jack lkenaga Jr
Joe Johnson
Sharon Johnson (Retired)
Marvin Kelly
Gerald Ladner (Retired)
Dorothy Langley (Retired)
David Lavergne (Retired)
Timothy McCoy
Keith Mitchell
Steve Nichols
Wayne Ottoway
Juan Padron
Terry Porter
Debra Lee Richardson
Barbara Schoenfeld
John Schramm
David Sommer
Craig Sparks (Retired)
John Stuckemeyer
Lonnie Van Houten
Linda Von Quintas (Retired)