Saving lives, one smoke alarm at a time.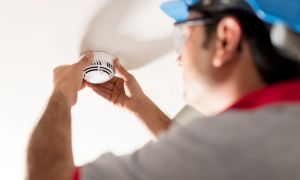 The "We're Out to Alarm Texas" campaign was created to help prevent the loss of life and property by providing smoke alarms to Texans through their local fire department. Initially, ICT worked with the State Fire Marshal's Office to designate cities that had high fire fatalities, and soon expanded the "We're Out to Alarm Texas" program to include other cities that learned of the program's success and asked to be included. The "We're Out to Alarm Texas" program started in 2005 and has grown every year to include roughly 27,000 smoke alarms donated to over 50 Texas fire departments.
According to the report, 2021 Fire Loss in the United States from the National Fire Protection Association, there were:
1.3 million structure fires in the United States
3,800+ American lives lost
$15.9 billion in estimated property damage
NFPA also notes that the risk of dying is cut in half in homes with working smoke alarms.
The program is made possible by grants from State Farm.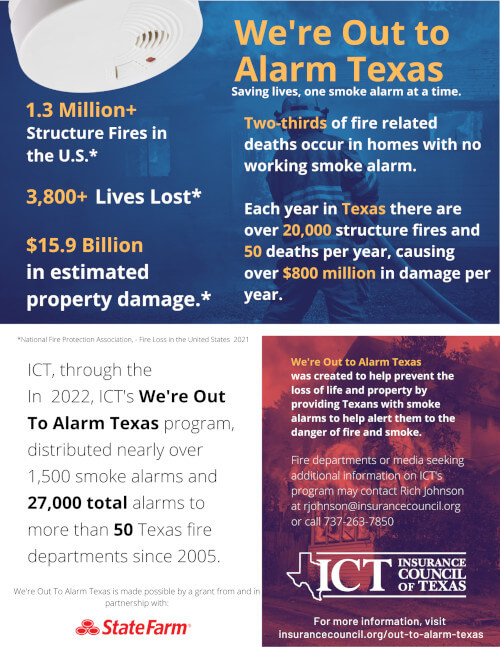 Fire departments must be willing to install donated smoke alarms into homes on a first-come/first-served basis.  Firefighters will install the new alarms and inspect each home to make sure other smoke alarms are working properly and point out potential fire hazards.  Each fire department keeps track of where they have installed the smoke alarms so that firefighters can determine if the alarms were instrumental in saving lives or property.
The SFMO maintains a list of fire departments with smoke alarm programs. If your city isn't listed, contact your local fire department and inquire if they participate in a smoke alarm program.
Click here for additional information on the value of a working smoke alarm in your home from the NFPA.