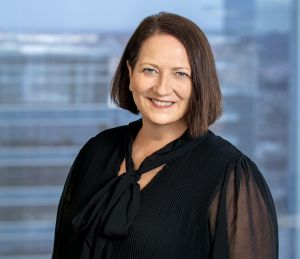 Rhonda Thompson focuses on trial work on behalf of insurance carriers directly and on behalf of their
policyholders.
Rhonda directly represents insurance carriers, both commercial and personal lines, in a variety of coverage related litigation, bad faith cases, and carrier-to-carrier disputes. She regularly advises insurers on complex and unique coverage issues under commercial liability, auto, farm, and property policies as well as errors and omissions policies, directors and officers policies, and tenant and homeowners' policies. Rhonda is sought
after to advise on complex business interruption and civil authority matters along with additional insured issues, shared defense and indemnity obligations, and contractual indemnity disputes, including litigating these issues on their behalf or on behalf of their policyholders.
Throughout her career, Rhonda has devoted a significant amount of time training insurance carriers and
businesses on a wide range of topics, including claim litigation management, risk management, insurance
coverage topics, and general claims handling.